Speaker Agency Digital
Our lives have transitioned from IRL to URL. By now you have probably realised that you should be a multifunctional octopus. But in reality, life feels like a cake that everyone wants a slice of. Demands on your time have increased and intensified.
01 September 2021 ・ Author: Speaker Agency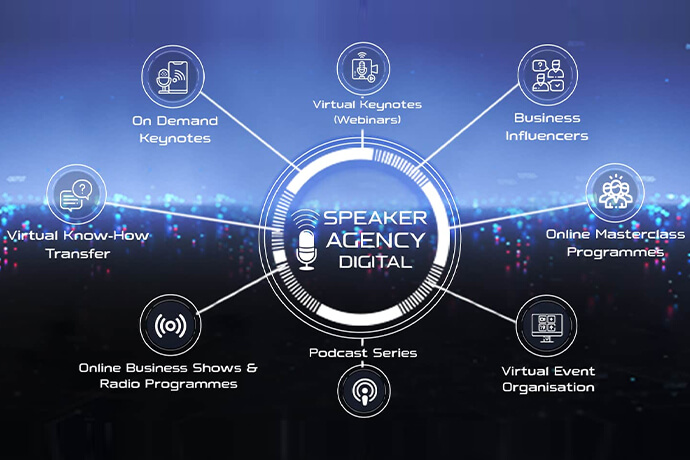 Virtual Keynotes from Regional and Global Thought Leaders
Our lives have transitioned from IRL to URL. By now you have probably realised that you should be a multifunctional octopus. But in reality, life feels like a cake that everyone wants a slice of. Demands on your time have increased and intensified.
The obvious challenges of personal and professional space remain a concrete barrier.
Can you divide and conquer?
How can you do it? 
Well, we can positively say that the first year of the pandemic has been a huge learning-curve. However, it has been immensely rewarding too.
We have lived and breathed through exactly the same dilemmas as our clients. And turned to innovation & creativity to brainstorm strategies and products that would help our clients in the long term.
We have connected with a diverse range of organisations and teams to really understand their expectations & how best to tailor our digital offering to bring optimum value.  Speaker Agency's roster of thought leaders have provided support and inspiration to numerous local and global organisations.
Our virtual keynotes, masterclass programmes, workshops, podcasts and tailor-made keynotes are designed to inspire, support and bring tangible value.
We are adding crucial content at a much speedier and more affordable rate than physical keynotes allowed them to be.
Our digital product range is designed to support the professional development and enrichment of all echelons of a company. Senior and junior alike. We are catering for CEO's to mainstream staff in a fully immersive manor to achieve maximum output from the lessons we strive to aid.
We have diversified so your organisations and your teams can navigate this challenging time to come out stronger, more versatile and better equipped to cope in the emerging post COVID landscape.
All events and keynotes are now conducted virtually. But the demand for this service has increased exponentially.
Technology have brough us closer where biology rendered us apart.
While your teams continue to adapt to working from home, the issues of flexibility, resilience, anxiety management and daily motivation have become more pronounced. Senior management had to sharpen their strategic thinking skills, unlearn and relearn! Adapt their leadership styles to cope and come out of this pandemic, stronger.
Speaker Agency Virtual Keynote Speakers and thought leaders continue to be in very high demand.
Do not miss out.
Analysing and translating the latest regional and global trends in business, technology, leadership, education and much more. Providing ever evolving, customisable & vision expanding talks.
 Browse our Virtual Keynote Speakers here.
Online Master Class Programmes
Speaker Agency Online Master Class Programmes are very popular with senior and middle management and leadership teams.
Highly precise and tailor made, Online Master Class Programmes are designed to address leadership, digital transformation, future of your sector and CX. 
Speaker Agency Online Masterclass Programmes are delivered via a mixture of modalities to suit your needs:
Video conference, holograms and digital rooms, the key is to add to senior leadership skills, and fast. Allowing you to achieve positive results.
Get in touch to learn more about our Online Master Class programmes and to invite one of our workshop speakers to deliver an ultra-tailored programme to help support your leadership teams personal/professional development.
Pre-recorded/On Demand keynotes for your Organisation & Teams
People make an organisation. A working community. And to say a company relies on its people is no understatement. The success of an organisation is linked with the happiness and performance of its people.
That is why we have created "On-Demand" & "Ultra-Tailored" Pre-recorded Keynotes.
It matters to look after those who show-up, log-in and deliver every day. Celebrating individual effort and bettering of your teams in the long run will facilitate your organisation to function better and strive to achieve as a collective whole.
Dilemmas we are increasingly faced with:
How to:
Motivate your teams who maybe working in different time zones and domestic settings? 
Help your teams maintain a sharp focus?
Enable every team member to understand their role and responsibilities?
To communicate your vision and mission to your teams?
To promote a positive organisational culture?
To enrich their lives and equip them with tools and skill-sets that will help them along their careers.
And do everything…. remotely?
Speaker Agency Pre-Recorded Keynotes are carefully curated to include a range of tried and tested tools. We can professionally deliver any topic or theme from aeronautics to deep learning to corporate mindfulness mornings.
Pre-Recorded Keynotes are created for your organisation to address your teams' needs. They also become "forever asset" to your organisation. A learning resource you can refer to time and again.
Get in touch to discuss the next set of skills you'd like your teams to learn. Or to get on board with upcoming lifestyles, tech and business trends. Let's get recording!
Podcasts
Our podcast series are constantly evolving. We include a multitude of varied topics. They are a fun, informative and, most importantly, a "screen-free" way to dig deeper into a theme that inspires your teams and/or your clients. We provide podcasts on the platform of your choice; and the topic of your choice to be accessed at any time.